JOIN the My Guide Network
Our Complete Website Solution frees up the time, cost and technical expertise required to build and operate your own successful online travel business
A Trusted Brand
Take advantage of our established brand that's recognised by millions, to gain a competitive edge for your business.
Reduced Startup Costs
Benefit from a 'ready to go' website solution that's fully supported so you can focus on growing your business without the need for technical skills.
Speed To Market
Use our off the shelf solution to increase your speed to market allowing immediate focus on generating revenue from sales.
Competitive Advantage
Gain a powerful competitive edge with our continually evolving website solution that takes advantage of technology changes and focused on travel.
Operate Your Own Business
Operate your own business with the additional benefit of continuing support from our global network of local experts.
A Global Network
Join a passionate network of business owners and benefit from the experience, advice and marketing opportunities for your destination.
JOIN the My Guide Network
Our complete website solution frees up the time, cost and technical expertise required to build and operate a successful online business, allowing owners to focus on creating the best destination guides in the market for travellers and developing a successful and rewarding local business.
Each destination guide is sold on a territory basis and managed by 'local experts' who are in charge of content, marketing and sales. My Guide is focused on the development of the brand, innovation of the product, while also providing support on all technical aspects of operating an online business.
We are always looking for new destinations to join the network. To download our full information pack please get in touch below.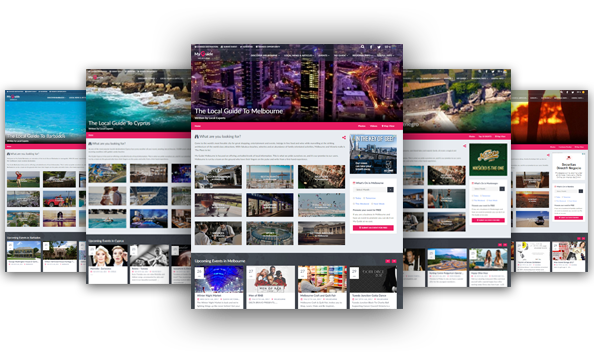 Revenue Streams
Being part of the My Guide brand, there are several ways to generate revenue for your destination:
Business Profiles
List local companies with either Standard, Premier or Platinum profiles on your website for additional revenue!
Advertising Banners
Create additional revenue streams with advertising banners displayed on your site, with custom categories per page.
Supplier Partnership Opportunities
For Higher Value Sales Including: Videos, 360 Virtual Tours & Photography.
Pre-build E-commerce System
Proprietary E-commerce system already built. Potential for future e-commerce revenue.
How to get started
To set up your very own My Guide local site and profit from all the services and technologies we provide, you only need to follow these easy steps:
STEP 1
Fill out the form below to express your interest for a specific destination and receive our Information Pack.
Step 2
We will send you our Info Pack and let you know if the destination you are looking for is for sale.
Step 3
We begin the setup of your website after you sign the Local Travel Partner Agreement.
Step 4
We give you access to your new admin area where you can add content and start selling!
Find Out More!
Fill in the form to receive the Information Pack!